Welcome
We will start with good information.
The day before yesterday we resumed shipping and today we should send the last outstanding orders.
On 4-6 August 2017 in the Museum of Polish Arms in Kołobrzeg, took place the Colberg Model Show "Orężada" 2017 which was organized by ModelMaker and the Museum.
51 models from all over Poland took part in the contest, who presented 230 models in total. The youngest participant in the competition was 5 years old, and the oldest 70. The model level was very high and dominated by models of land and air forces. The awards ceremony took place on August 6 at 2 pm. In total 23 classes were given 65 medals, and 20 special prizes.
The exhibition was very popular, and over the course of the weekend it was visited by hundreds of visitors. As part of the event, courtesy of the Commander also included a trip to 21 BLT in Swidwin, at the exhibition site modeling market, and the modelers had the opportunity to familiarize themselves with the rich collections of the Museum. More information can be found on the festival website www.colbergmodelshow.pl
At tehe model show we ha our premiere
We give you a unique set for you. In May 2017 in the
56 Air Base in Inowrocław, we was celebrating 50 years of service Mi-2 in
Polish Army. On this occasion, Filip Jereczek, founder of ModelMaker,
Design and then personally made, occasional painting on
Mi-2 no 6922.
Today in your hands we give a model that contains everything
necessary to make a miniature of this helicopter and a special gift in
the form of a commemorative patch that never will be at sale and was
available only for base staff and for us. This is our second model,
ee hope you will be satisfied with it.
Thi is limited edition and You can buy it only on modelMaker eshop HERE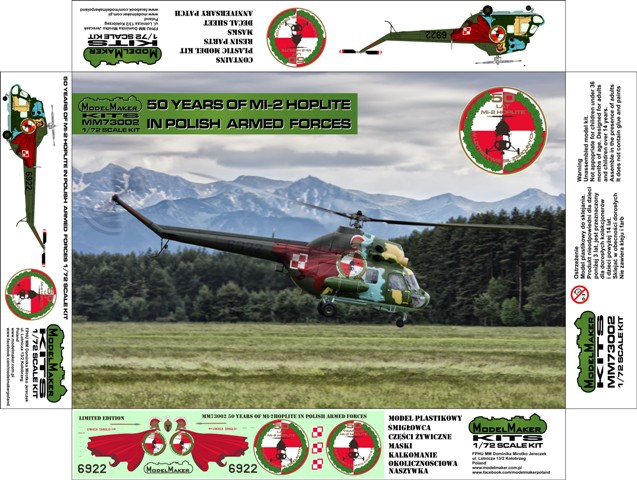 And now the bad news. We have a lot of queries about the D..095 GREEK F-16C block 52 ZEUS DEMO TEAM 2015, but also about the Romanian F-16 or another German Eurofighter. Unfortunately, it has become so that since May we have been absorbed in several projects like painting Mi-2, renovation of MiG-21 in Swidwin or finally organization of Model Show. These issues were all over us, and we were not able to finish working on these projects. An additional problem is the holiday of our printing house. We would like to apologize for this situation and we are going to release these as soon as possible, probably in September and October. As for the F-16 ZEUS set, we have another surprise for it ;)
Best Regards
ModelMaker Team