Hello Everybody,
Starting from current issues, we have just released decals for Luftwaffe Eurofighter, unfortunately only in 1/32 and 1/48 scale. 1/72 scale will be available next week. These will be followed by announced earlier three sets for F/A 18D: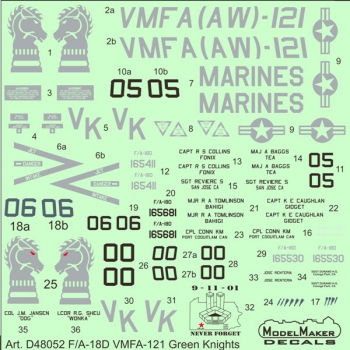 And MiG-29: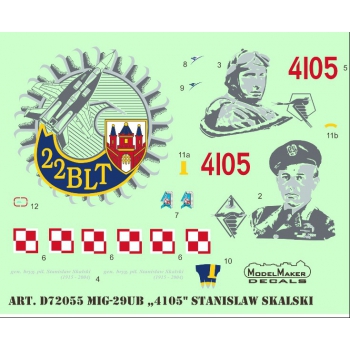 Next sets in 2016, and there will be announced earlier Greek Phantoms and Stanislaw Skalski aircraft, which will be followed by vol.1 of Polish AF Su-22.
Continuing earlier announced sets we would like to present initial design of the Tiger Meet 2015 F-16.
The work on them was halted for some time, as a result of awaiting for the source material. The material arrived a week ago.
The work is well advanced, some minor works on matching details left only, and this includes CFT tanks, and matching to to certain models (Tamiya in 1/48 and Revell in 1/72 scale), and takin a crucial decision on the whole shape of the set. Here we have some questions to you: for sure we would like to release the set in the form of decals, but for most demanding modelers we plan to include masks. Such a set will have higher price, certainly. We are thinking on tiger's head for vertical stabilizers which the only FS 36375 colour, but the paint delivered to WZL workshops differs strongly from this colour resulting in a mismatch . While we are able to select proper colour for tiger's head, we are seriously thinking of inserting "negative" of this element, so that the head would be set on the model painted in FS 36270. Therefore, the issue of the lighter grey hue would depend on individual perception of the modeler rather than ours. The situation is somewhat odd, but there is no ideal solution. What do you think?
More on F-16, we would like to announce two more sets, namely "20 Years in Portuguese AF" and "60 Anniversary of a Greek unit 341 Mira "Velos/Arrow".
These demands more description. As you may know beginning of 2016 will bring 3rd Anniversary of our company. We realize the beginning was difficult. This and still is a challenge for us.We had problems with quality of our printing quality. Well, what we can say, is that at that time we used whatever was at hand and affordable. In the meantime we have improved printing quality thanks to our new contributing Czech company printing only decals for models. Now, most of the printing is done in Czech Republic, but we would like to base on two independent contributors. The other problems stemmed from both, lack of experience and source documentation. After first decal sets releasing, we have got plenty of criticism but also feedback from people linked with aviation, who were helping us(and still keeping on doing this help!) in obtaining proper source material and starving to correct all mistakes, whether they are major or minor.
Now on the new subject announcement. Since this is our pet construction, used by Polish AF and leading theme in our first releases, we decided to collect the whole material gathered within last three years and re-released it in a form of set entitled "MiG-21 in Polish Service- exlusive". We had to compromise, as it was not possible to include such a massive material without cuts in digits and chessboards. And remember; the design we are announce today is in the beginning stage of designing, we still to have check sizes, colours, proportions etc of each marking designed roughly. We are open for suggestions, corrections etc. Please, if you have any unique material, do not hesitate to let us know! We still thinking on Tiger Ums, as we feel the tiger machine decals are comlete only with all tiger strips, meticulously rendered on decal sheet. We have got a positive feedback on "tigers". Modelling fraternity awais full decal sheets on them! Thank you all for your enthusiasm. We will keep you informed on further decisions. We also keep thinking on other than MiG-21 subjects in Polish service, and will inform you soon on our plans.
Best Regards

ModelMaker Team